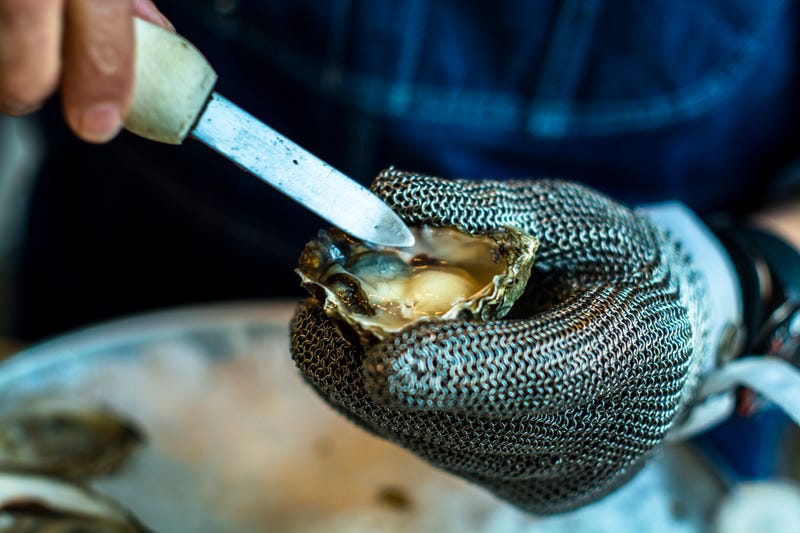 This all started with a post on Facebook from my friend Alex. He put up a link to an article about a mobile pop-up oyster bar that had come to St. Petersburg. Some people were commenting that there was no was they'd eat oysters out of a van. I, the eternal optimist, was convinced that there was nothing shady about this operation and that one would not die a horrible death from eating raw, tainted seafood. The challenge was thrown down. Gabe and Alex would go eat oysters from a van.  

This is the Empire Oyster Shuck Truck. A 1967 Chevy Sportvan 108. Frankly, I'd eat almost anything that came from this van.

As it happens, you don't actually eat the oysters in or directly from the van (though I have no issue with doing that, just look at that van!). They set up shop inside a local coffee shop/cocktail bar. In fact, it's the same place that I took this lovely photo at.
This is a classy set-up. But I knew that beforehand. I think the idea of mobile, raw seafood freaks people out. It shouldn't. You have to have a little faith in the person or place serving you food.
This is what Alex had to say about our outing:
Most people would not jump at the chance to slurp raw oysters from a Chevy van called the "Shuck Truck." But Gabe and I are not most people, so we jumped at the opportunity to try some mystery van mollusks. We were pleasantly surprised to find the Empire Oyster pop-up nestled inside Intermezzo Coffee and Cocktails. Inside, Empire set up a bar lined with seven different types of oysters – four from the East Coast and three from the West Coast – and a menagerie of custom sauces and eye-droppers full of spirits to squirt on top our bivalves. The result: A brine-filled happy hour full of our favorite shellfish.
Frankly, the oysters were amazing. Fresh. Salty. Perfectly shucked. It was wonderful. I'll be back for more.
And now, on to the rest of the pictures!