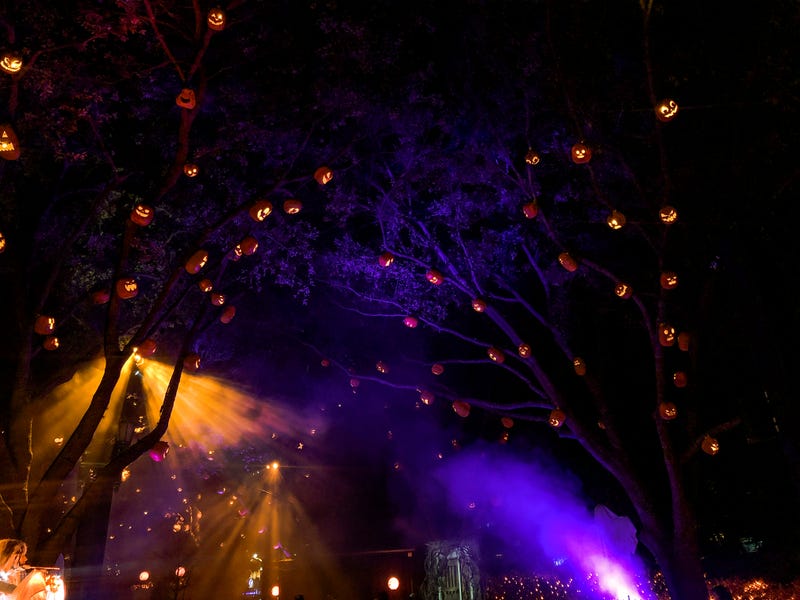 Earlier in the week, we went over to Orlando for Halloween Horror Nights at Universal Studios. That same day, there was a SpaceX launch right at sunset. I thought the parking garage at Universal Studios would be a great vantage point to shoot from.
It was. We parked and I dragged my gear and the wife over to the side of the garage and got set up. It was still fairly bright out, so I threw on three ND filters and was able to get a 10-second exposure that looked great. The plan was to take several continuous shots and stack them. Getting the rocket trail shot during the day is tricky and I was gonna nail it.
Except some bike-riding security guard had other plans. He rolled up and wanted to know what I was doing. He said something like "You know there are cameras all over the garage and they can see what you're doing."
To which I said "Ok." I wasn't doing anything wrong and wasn't trying to hide anything.
I explained about the rocket launch and he said I couldn't shoot it from there. He said that people watch launches from the garage all the time, that they shoot the launch and then leave. But, I couldn't set my "professional" camera up 15 minutes in advance to wait for it.
I wasn't about to start an argument with him which would lead to getting thrown out before going to the park. I packed it all up and as we were heading into the park, I saw tons of people with "professional" cameras taking all sorts of pictures of everything. I don't understand what the issue was, but whatever.
Halloween Horror Nights was pretty cool. I only bothered to snap a few pictures with my iPhone. The header pic is one of the streets all decked out in the park. The other was from outside the Evil Dead house. Evil Dead is one of my favorite things ever, so I was super excited for the house. I was giddy like a school girl. Tons of fun was had.
My only criticism of Halloween Horror Nights is that Universal has a whole Simpsons area, so why don't they do a giant Treehouse Of Horrors area? It's a no-brainer. It would be awesome.
The next night was mostly cloudless, so I went out to try a shot I'd been wanting to work on. The plan was to take about 40 minutes of continuous exposures. In the middle of the attempt, a bank of clouds rolled through. I waited for them to pass, but a bright moon was on the rise, so I only got about 20 minutes worth of shots before the moonlight started to wash out the sky. This is 39 continuous 30-second exposures at ISO 640 and f/4.5.
I wanted to get a palm tree in the foreground, but the streetlights made that difficult to pull off as they make nasty lens flares. So, I found a boat lift on a dock to use instead. I pointed in the direction of the North Star and went to town.
I'll be doing this again with more shots to work with for longer star trails. But before I could do that, I was not going to be denied a rocket launch this week. At 3:28 am on Saturday, United Launch Alliance launched NROL-52 Mission on an Atlas V.
The conditions were perfect. Not a cloud in the sky and no moon just yet. The moonrise time was the exact same time as the launch, so it would be a little while before it got above the houses and such across the bayou. Rather than the single long exposure rocket launch pic I've done, I took my settings from the North Star pic and ended up with 51 consecutive 30-second exposures from before, during, and after the launch. The moon snuck up at the end, but it wasn't too bright.
I would have kept shooting, but I got some company at my spot. Before the rocket went up, a guy and lady pulled up and got out of their SUV. They sat by the water for a few minutes, talked, and then left. Right after the rocket went up, they came back with another woman and they were acting very different.
They were loud and obnoxious, screaming and doing all sorts of loud things. It was like they got completely shitfaced inside of ten minutes, and I have a theory as to how that happened. I'm pretty sure they were snorting coke (they must have gotten into the coke while they picked up the other woman) and getting ready to get freaky where fisherman pee at this kinda-boat ramp/fishing area part of my spot. Gross. It's a great area to shoot from except it smells like piss, so I don't shoot from there. Rather than hang around when the cops showed up (knowing my neighborhood, I know someone heard them and called the cops), I packed up and split.
Anyway, I didn't know how the shot would come out. Would the rocket trail be broken up as each shot happened? Were the settings from the North Star shot going to work for the rocket launch?
I'm really happy with how this turned out. The rocket trail looks great. The break at the end of it is from stage separation and the next engine firing up. I also got an airplane flying through the shot, which is cool. There was also a really bright meteorite that went right through the middle of the frame from top to bottom, but with the settings I was using, I knew it wasn't going to be visible in the shot. Oh well. Anyway, here is the shot.

I might re-edit this to not include the shots with the moon poking out. Maybe. Or maybe just photoshop it out so I don't lose any length on the star trails as the moon was in about 5 minutes worth of shots. If the coked-up people weren't there, I would have kept shooting for maybe 10 or 20 more minutes. Next time...