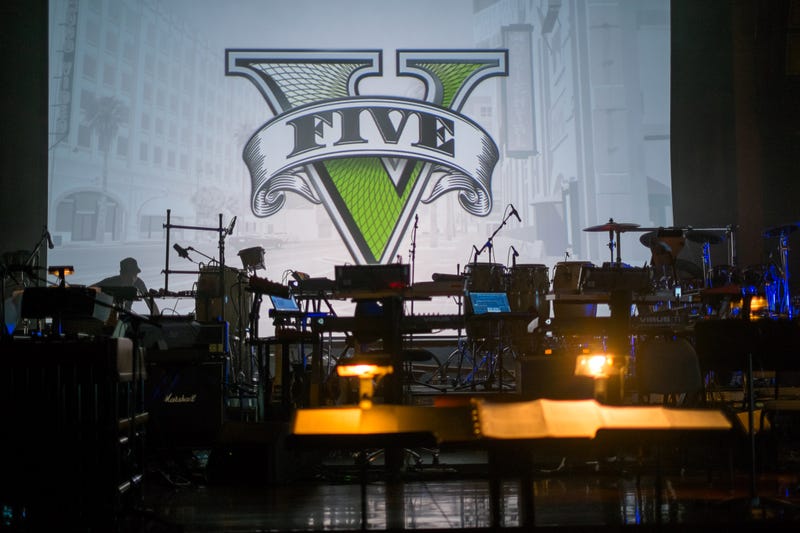 If you're like me, you've been spending your nights after work toiling away in the incredibly deep underworld of Grand Theft Auto V when you should be doing more productive things like pawing through photos to submit to this week's travel theme.
Last week I had the pleasure of attending Live From Los Santos: The Music of Grand Theft Auto V. The setup was pretty simple: ferry in a few well respected composers, rent a beautiful (and oddly designed) church, fill said church with loyal fans, profit. As the massive crew of musicians slashed their way through the familiar soundtrack, scenes from the GTA V heist missions played in sync on the enormous screen behind them. Rhythmical head-nodding and eyes full of splendor ensued.
Though I was fully engrossed by the faithful live recreation weaved by Woody Jackson, Tangerine Dream, and The Alchemist and Oh No, I fought out of my tonal trance every so often to snap a few shots of the scene.
Catholic churches: regardless of your faith, you can't deny the amazing acoustics!
Set up, sound check, angels, arches
The cast from left to right: Ned Luke (Michael De Santa), Shawn Fonteno (Franklin Clinton), Stephen Ogg (Trevor Phillips), and introducing Blown Focus as himself
Beverly mission: "Get a photo of Trevor harassing a teenager! We're going to be RICH, homey!"
The musicians prepare to take a bow during a well deserved standing ovation
After the smoke (and crowd) clears
After party at Le Poisson Rouge, featuring a set by Flying Lotus, aka FlyLoFM, aka time to put the camera away
Grand Theft Auto V is, without question, one of the best games of the year, with one of the best scores I've heard in a game, period. If you haven't played it yet, what are you waiting for?
Bonus Round: Video!
Alchemist and Oh No, Tangerine Dream, and Woody Jackson bring it home
Flying Lotus spins a cut from FlyLoFM - Los Santos shout out sold separately