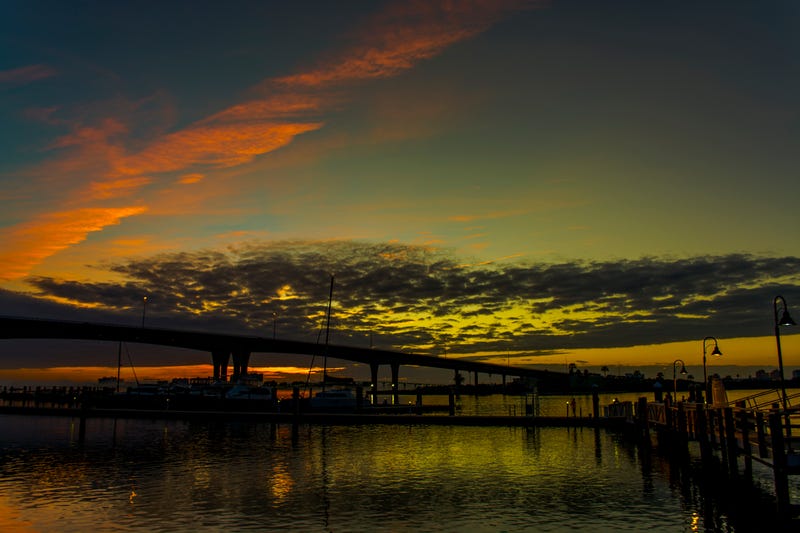 Today's sunset picture attempt turned out a lot better. The clouds still weren't exactly what I was hopping for, but I think it worked. If you look at the second bridge in the background, you'll see that there was a wall of fog rolling in. This is weird. This isn't something that happens very often down here. We'll get fog in the morning, not rolling in late in the afternoon. Freaky.

Here are my best of the bunch. One of these will probably end up being framed and given to my mother-in-law for Christmas. Let me know which on the three you think it should be.
Addendum: I noticed some splotches in the pictures. Looks like spots on the lens (time for a thorough cleaning!). I played around in Photoshop with the healing tools and I think I did alright. If you look across the top quarter of the above photo, you'll see the spots. How I missed them, I don't know. Below is the corrected photo. I'm not very good at using the healing tools, so it took me four or five attempts to finish with a result I was happy with of. I'll probably take another close look at it later with fresh eyes to make sure I didn't miss anything.
 And finally, I tried to make a composite of three pictures. Photoshop spit out some weird crap as it didn't like the picture that would be the right third of the panorama. I took that out of the mix and got a decent result, but it's not great. There are some issues with the color gradient from the blending. Oh well. If I really want, I can probably correct that, but I'm not going to loose sleep over it.
One more bonus shot. This one has Venus shinning bright in the upper left corner.