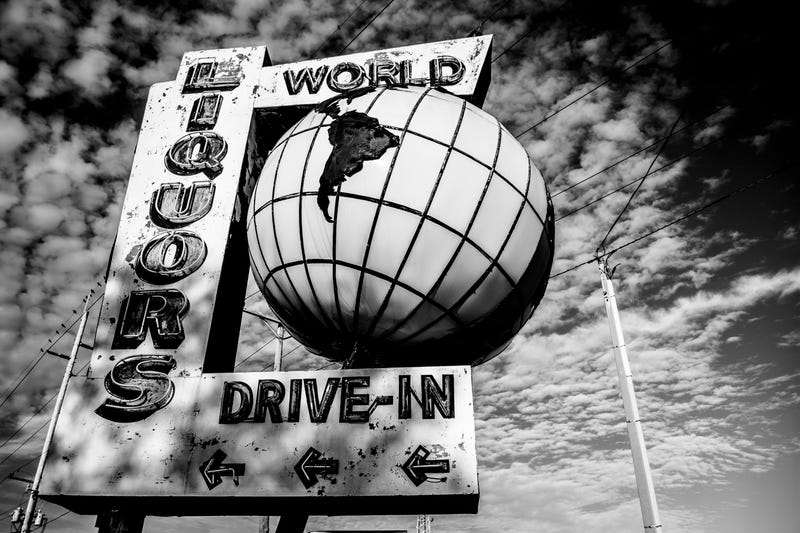 I went out to shoot for a little while today. I wasn't looking for anything specific, just walking around for a bit, covering a handful of blocks. I take that back. I did pick my starting point so that I could take a few shots of the World Liquors sign. It's a St. Petersburg landmark. 
I thought this interstate overpass looked better upside down.
I came across these next ones behind a woodworking business. I guess on the table saws, large sanders, and such, they have an industrial shop vac system integrated to collect the dust and shavings. These are from the clear collection bags attached to the vacuums out back. The different layers of saw dust and other debris looked like a cross section of sedimentary rock. I took these with Minolta 50mm lens on the Nikon for the macro effect.
I took the pictures of these little flowers with my Nikkor 50mm and the Minolta. I really liked the colors, the sun was hitting them just right, and the chain link fence helped make for an interesting bokehed background.
And finally, a bonus selfie. I was messing around in Photoshop and really liked how the dirt on the inside of the window gave the reflection a completely different look and texture from the sticker on the outside of the window. It almost looks Photoshopped together; or like I made a crappy print of the reflection picture, glued the sticker to it, and took a picture or scanned the result. It just doesn't look right, and I played around in Photoshop enough to exaggerate that effect.
I hope you enjoyed these. Don't know how much shooting I'll be doing this week, but I think I have something really special lined up for Saturday night.