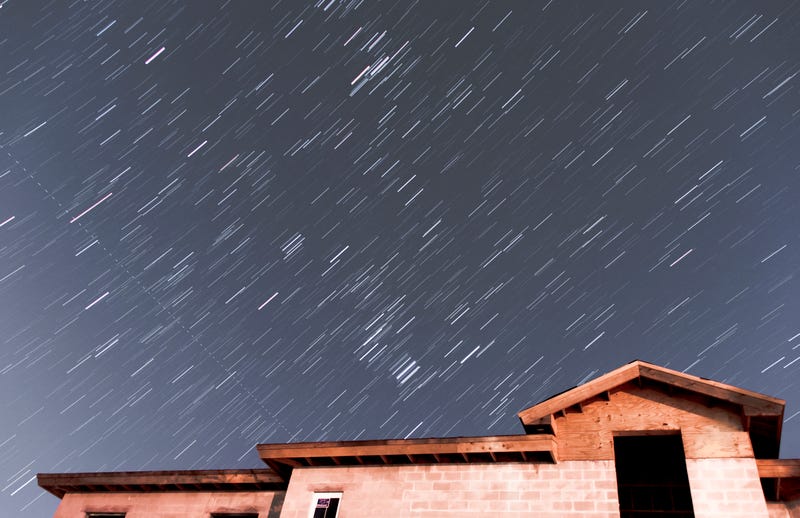 I went out a few nights ago to try for a better star trail circle shot with the North Star. We'll get to that in a second. The header was taken on the walk back home. The Orion constellation was visible just above this house being built. Some trees blocked most of the direct light from the street lights and Orion was in the darkest patch of sky, so I set up and shot for a few minutes.
This is 16 stacked 30-second exposures. I was facing almost due south, so the star trails, especially from the bottom left to to right are almost a straight line, rather than curved. I hadn't planned on doing a stacked shot, but a plane flew through the shot. I love getting a plane in these shots as a contrasting line, so I decided to stack them.
Before this, I tried another star circle shot. I went to the same place as the last one as I really liked the boat lifts in the foreground. This time, I tried to line the shot up a little better. I was pretty sure I did it right, but wouldn't know until I got them all stacked.
Nailed it.
I got the North Star lined up right where I wanted it. This is 106 30-second exposures stacked. My computer hates me.
The next night was the peak of the Orionid Meteors. I went out to the beach to get access to the larges area of dark sky possible. While out taking the star circle picture the night before, I saw a handful of meteors, so I was hopeful that i would get a good show.
Sadly, some high clouds were coming in and really mucked up my plans. There was only one visible patch of sky, and even that had a good amount of haze. I did see a flew glowing through the clouds, but nothing that would show up as a meteor streak in a picture. After an hour of watch the clouds encroach on the clear patch of sky, I was ready to call it a night.
Before going, I turned the camera inland and wanted to try a few shots for shits and giggles. There were still visible stars, some palm trees, wispy clouds, some light pollution... I thought it might look nice. A few shots in, I saw a meteor streak through the top of my frame and was pretty sure it was bright enough to make it in the shot. It did! It's faint, but it's there.
The Orionids will still be falling for another week or so. We should have a super clear night on Thursday, so I'm going to head back out to see what I can get. Before that, I'll be shooting a band on Wednesday. Against Me! is playing two nights (Wednesday and Thursday) before heading up to Gainesville for The Fest. I've been going to see this band play since the early 2000's and have never once taken my camera. I have 15 or 16 years of pictures to make up for. I also may try to pull some strings to get in to the second show, too. We'll see how that goes...