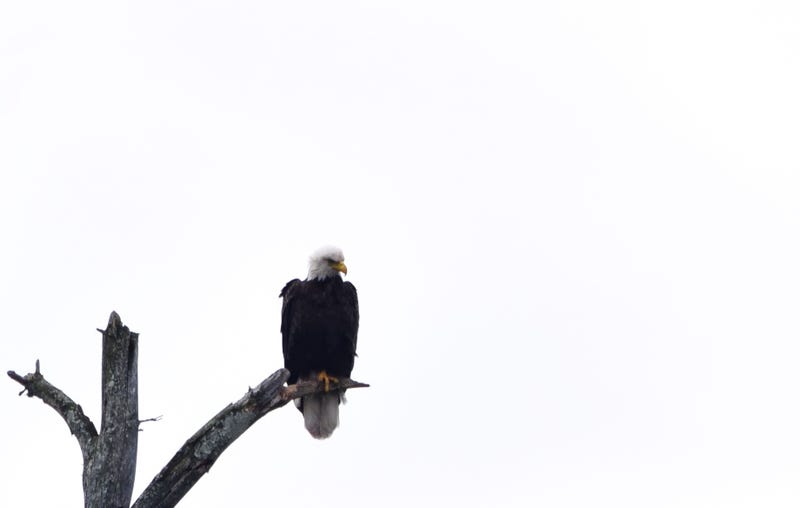 There's a park I go to that used to be a crummy golf course until a flood decimated it a few years back. Instead of reopening, it was donated to the township and turned into a nice little park.

I first started going there because they supposedly had a nesting pair of bald eagles. Never seen them until the other day.
I was walking the trail and came across some other birds.
Don't know what these are, but they were having fun playing on a fence.
Then saw this thing.
Walking further down the path I saw some canadian geese.
Then I happened to look up and see a familiar shape on the branch of a dead tree.
"Holy shit, it's a bald eagle!"
They are not a terribly uncommon bird here. I usually see a few puttering about each year. But I haven't come across one perched so closely. I proceed to take a bunch of photos.
As I'm standing there taking photos, a gaggle of loud, power walking humans pass by. I was going to be like "Hey, look! A bald eagle." But I didn't. They were annoying.

Plus, if they didn't bother to look in the general direction that the dude with the gigantic tele-photo was looking, they probably didn't care anyway.
After just standing there for awhile enjoying the company of my bird friend, I continue on my way. And find a little dude trying his best to blend in with the natural surroundings.
"No birds here. Nope. Just grass and weeds."
As I'm walking back, I look up again to see if the eagle is still there. "Oh, he moved to another tree."
Then I look back at the original tree. "It's both of 'em!!!!"
*shutter noise intensifies*
Part of me wishes the skies had been clear so I would have had an easier time of taking the photos. But I think the washed out backgrounds from the cloud cover makes for a cool effect.