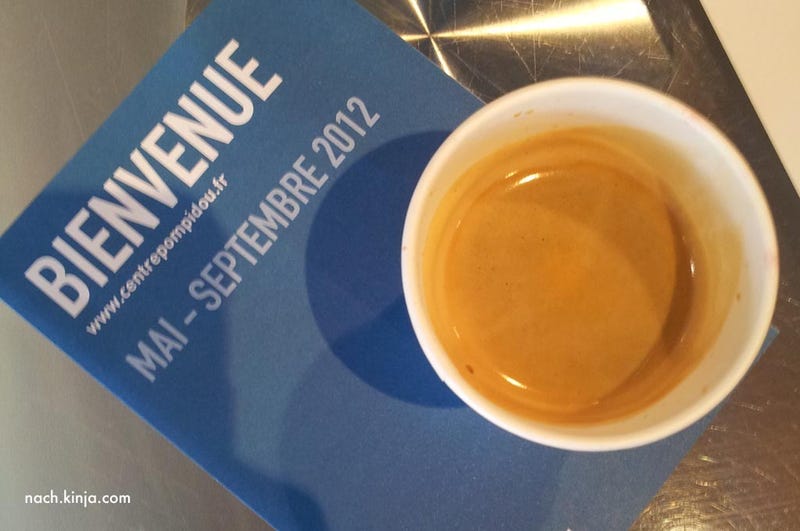 As soon as I climbed down the hills, I decided to treat me to some coffee, and it happens that just a few more kilometers down, close to the Rue Montergueil, in the 4th Arrondissement of Paris stands Le Centre Georges Pompideu, and they serve some good coffee inside!
But it's not just coffee what you can find inside this interesting complex, apart from the bizarre architecture, this Centre serves as the National Museum of Modern Art. It's funny because in all of Paris mentality of being super conservative in their architecture, this monster sits right in the middle of the city, just a few blocks away from the Louvre and Notre Dame, and initially was criticized cause it didn't belong, not just in the city but also in the decade it was built.
Quoting Wikipedia...
National Geographic described the reaction to the design as "love at second sight."[3] An article in Le Figaro declared "Paris has its own monster, just like the one in Loch Ness." But two decades later, while reporting on Rogers' winning the Pritzker Prize in 2007, The New York Times noted that the design of the Centre "turned the architecture world upside down" and that "Mr. Rogers earned a reputation as a high-tech iconoclast with the completion of the 1977 Pompidou Centre, with its exposed skeleton of brightly coloured tubes for mechanical systems. The Pritzker jury said the Pompidou "revolutionized museums, transforming what had once been elite monuments into popular places of social and cultural exchange, woven into the heart of the city.".[4] The building was so modern and different, it stood out from those around it. The outside of the building reflects the modern art that is held inside. The Centre shows that High-Tec style will be the future.
There's something funny, the Centre has these hallways that go around the perimeter of building, being inside of them remind me of halls that connected the different areas in the city of Rapture in Bioshock.
Looking down it's never a good idea when you're more than 50 feet away from the ground!
And the 5th level of the centre is high enough to guarantee a great view of the area...
Because the Pompideu ain't the only interesting construction in the area.
The view of the elegant residences of the area is breathtaking.