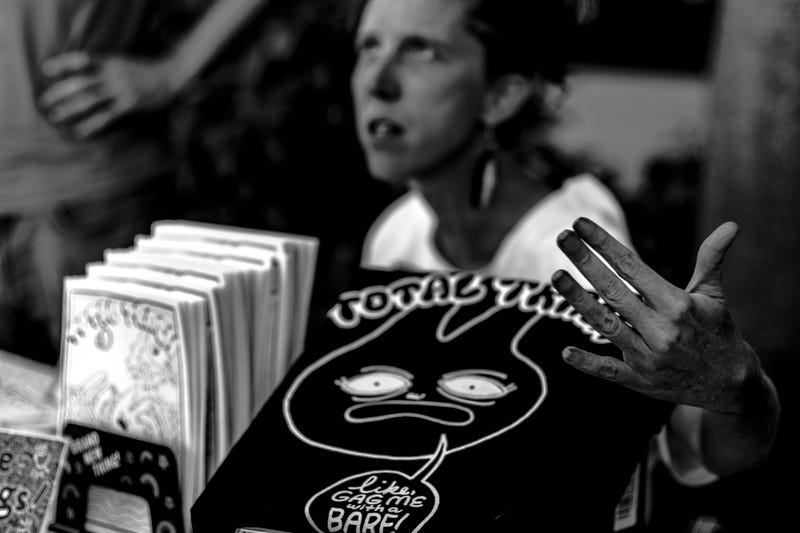 I finally got out for a bit to shoot in St. Petersburg. I've given Tampa too much attention recently, so it was about time to give some love to the city I actually live in. I headed downtown and first stopped to pick up some concert tickets from our local indie record store. Upon getting down there, I find they are having a zine fest. Among the many vendors I find my friends Jen Sandwich and Brad selling their amazing art. Jen (among many other things) writes a zine called Total Trash. Brad makes the most insane collage pieces I've ever seen.
Happy Brad.
Hitman Brad.
Jen Sandwich
Some random people.
We hung for a bit, and after I snapped some candid shots, I move on to see what else is I can find. As you may have already seen, the building being torn down had the wrecking ball running today. I grabbed some pictures and kept walking.
I then proceeded to a few spots I had previously scouted to take some pictures that were a bit more abstract.
And finally, a little reminder that my favorite event of the year is now just under five months away...
The inside curb for turn five of the Grand Prix Of St. Petersburg track, which lives in a parking lot until they set up the track. I thought the picture looked a bit better and weird when rotated 90 degrees.
Except for the zoomed shots of the building, everything else was taken with the vintage 50mm. Of the zine fest shots, the hand reaching for the rock and the button bowl were at f/1.4; the others at f/2. The abstracts and track curb were at f/16. I'm very happy with this batch as I got to take a variety of different shots. I don't do a whole lot of candid street photography, but I'm glad I stumbled across some friends in a situation where I could shoot without feeling weird about it. 

I'll be out on the streets of St.Pete again next week for at least a day or two. There's a lot more ground to cover.