We got some nice pictures this week. Thanks for the participation everyone.
Sony a7, CY Zeiss Sonnar T* f/2.8 @ f/4, ISO 100, 1/250 sec.
Sony a7, Minolta 58mm f/1.2 @ f/2, ISO 100, 1/320 sec.
Both from a hike this past weekend. Both taken from the Crabtree Falls trail off of the Blue Ridge Parkway. I really liked the snowy transition in the tree line and the wispy clouds in the first. For the second, I just really liked the scene (would have been a bit better had I taken a few steps back), the colors, and the flakes of snow gently falling.
Up until yesterday there was no snow here, now there's around 6 inches. It's very windy out too. I decided to go for a drive and see what I could see. I particularly like the shot looking down the road. I tried to capture some of the blowing snow.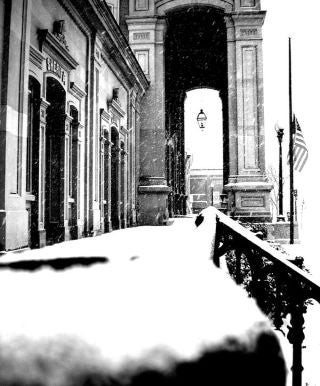 This is one I took many moons ago using a sony point and shoot and has been heavily shopped. Beyond that I don't remember much about this one (had to pull it off my myspace account.)
T2i 50mm 1.8 @f/2.5 1/2000 sec iso 100. Imported into lightroom and cropped.
From a week ago (snow gone now). Nikon D7000