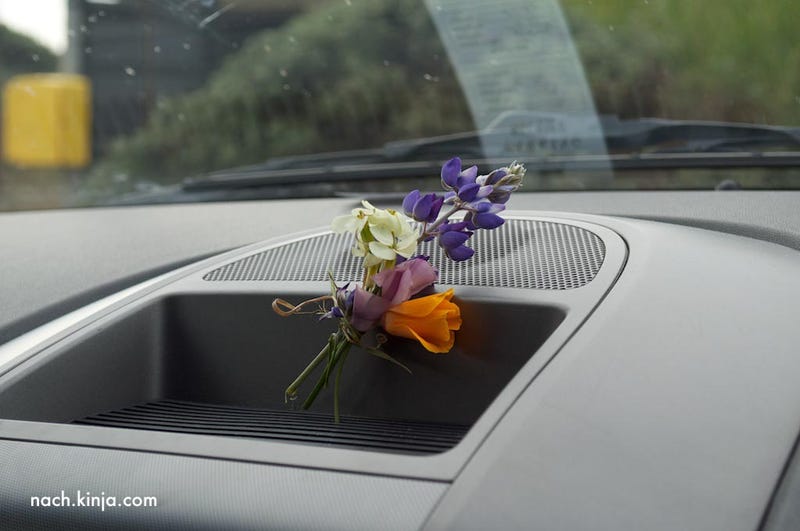 Hello everyone welcome to another session of the one and only PhO-TAYgraphy Club, the unofficial Photo Club of Kinja! I'm your host Nach and this is our second themed session! I think it was something in the lines of Urban & Rural, so go gather pictures from big cities, small towns, nothingness, or super saturated pics! Big avenues or Small streets, anything fits here, just don't focus too much on Nature ;)
Our trip began on a Saturday morning, I've always wanted to go to San Francisco, but the trip over there is long and hard, nevertheless we found a solution, my cousin was going to lend her truck, and put some money for the gas, I found a cheap and decent hotel near the Fisherman's Wharf area, and so we had a Road Trip!
We were supposed to depart at 6AM but... my cousin went out partying the night before and we had to wait for her...
4 hours later...
Leaving Irvine, CA
519 miles left to San Francisco, CA
Once we got out of the madness that is Los Angeles and all of the suburbs surrounding it...
We hit San Joaquin Valley... and well the scenery ain't exactly inspiring...
After four hours on the road, our energies were on all time low =/
so we made a technical stop...
We had to make a detour to leave one of our friends in Sacramento, CA
Thirty minutes later, we could see the bay, Almost there!
Our progress was stalled by the many toll booths before we got on the bridges to traverse the San Francisco Bay...
We could see the city in the distance....
That night we were dead so as soon as we hit the hotel we collapsed...
[N/A]
===============================================
Next morning we woke up at 8 to head out to Golden Gate, We should eat something for breakfast... wait...breakfast? Nah leftover donuts! (Double dipping on donuts? Shame on you Nach!)
We headed off Golden Gate park, where many glorious adventures awaited!
We found a parked excavator!
And then we contemplated the vista!
Heh! we even tried doing a silly posed photo! (My old friend from the university jumping abilities are out of this world!)
Here he's suggesting me how to take a picture... (Really? How dare you!?)
My cousin was still suffering the after effects of partying hard... me being the nicest person in the world tried to revitalize her...
after our little adventure at the Golden Gate Park, we headed back to San Francisco to eat a decent meal!
Ohhh! Leftovers! Send them my way! (I have no shame...)
We were feeling a bit stuffed, so we ordered one dessert to share... Crepe with Bananas and Strawberries whit a side of Ice Cream =)
I think we should have ordered another dessert...
Congratulations on a job well done! Ermm... You got red on you!
we relaxed at the Alamo Square... someone told me about painting ladies, I think we got there late cause the show was already over... (heh! lame joke is lame!)
and visited Lombard St. (See it says right there! pɹɐqɯo˥)
What?! Need more proof? Look at those wavy streets! Don't know if the photo is a bit tilted...
This was a quick visit to the city, so as soon as we regained our energies we set sail to the south! Good bye SanFran! It was nice to meet ya Paris of the West!
Oh San Joaquin you are so full of nothingness!
Although we found something that amused us!
The trip on the way back was as exhausting as the one to get to SF, but we were blessed by a beautiful sunset over the valley...
By the time we arrived to Irvine everything was dark... and fuzzy!
So there ya go... 32 pics full of adventures! One of the best vacations I've ever had in my life! So now it's your turn to share some of your small adventures, or just photos related to our theme from today, head over to the comments section and post post post! =)
Oh... as much as I enjoy some multiplayer fun, I always prefer the the Single Player Experience!