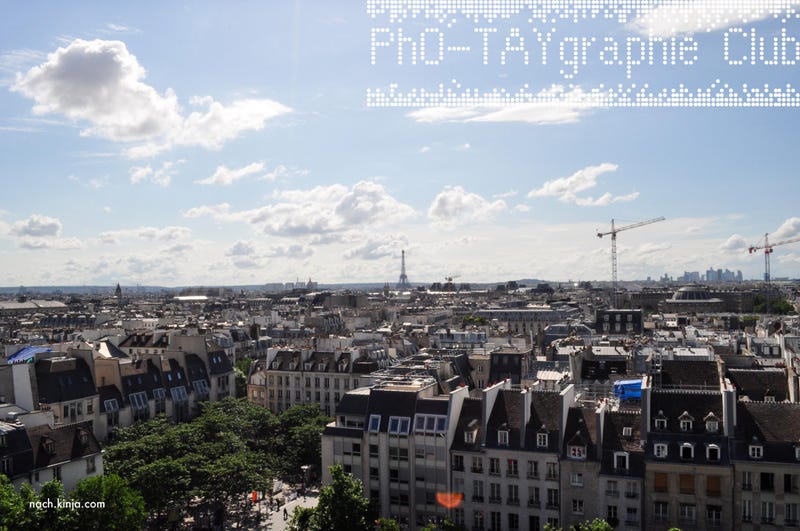 Bonjour a tous mes amies et enthousiastes de la photographie! Bienvenue a la Troisieme Edition du PhO-TAYgraphie Club Mêlée Générale! This edition of the Photo Club is inspired on one of my favourite cities ever, but there's a twist... the way I view the city of Paris, France ain't exactly how it's painted... I tend to get a unique and bizarre take on the city on this series that I call Paris Myope, I will also take this opportunity to explore what may have inspired Junichi Masuda of Game Freak Inc., to create the Kalos Region for the next Pokemon X/Y games, maybe some of the places present on this series will appear in the October 12th release!
La Ville-Lumière or the City of Lights, it's no secret that this is the most visited city in the world, flooded with monuments, and unfriendly citoyens, millions of tourists gather hear all year long, with the Eiffel Tower being the emblem of the city...
I decided to get a better look at the tower... but I may have gotten too close to it...
Exploring the insides of the metal beauty that looms over the city, I thought "well... why don't I climb it? maybe I can get a nice view of the region..."
Hehe! as I ascended people started to look like little ants... but maybe..." I thought to myself, "instead of contemplating the city from this position, why don't I try something different... pourquois pas, eh?"
A view of the tower from the tower... in all of it's rusty glory! This you don't get to see it on your typical Paris tourist brochure! But... where to now? I hopped on the Metro and veered towards my next adventure...
Well... that took way longer than I thought... first I had to descend to the platform =/
And wait for a few minutes for the train to arrive... walking towards my next destination I realized it was getting late already...
So I decided to rest a few hours to get going again, my adventure had to wait... or in your case it will continue in the next few weeks, my next voyage will take me to the tallest region in the city of Paris... until then Bonne Soirée et à bientôt!

Mais... attend! This is your opportunity to share your photographies in the comment section! So share your view of the real world, tell the stories behind those photos and let's discuss tips and tricks to become a better photographer ^.^