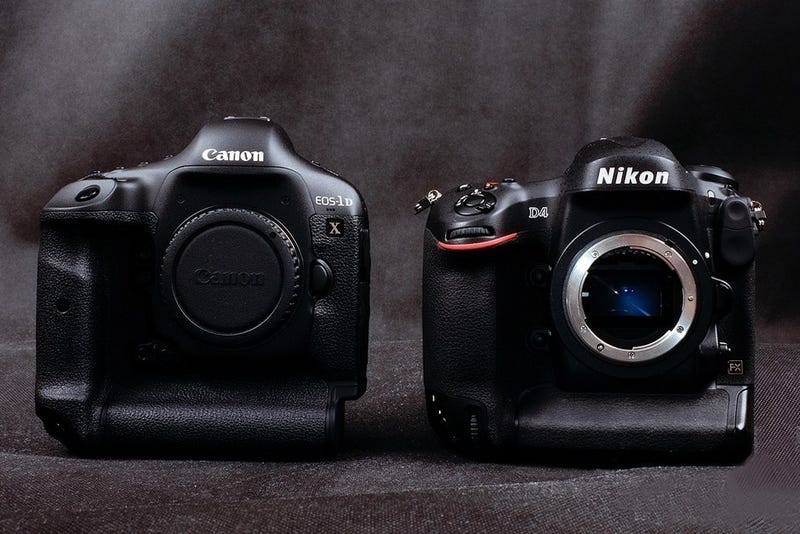 Yesterday, we took a look at a Nikon D4 with just under 9k on the shutter for $4,850. Today, we look at Nikon's flagship DSLR's main competitor, the Canon 1DX.
Canonpricewatch.com reported a deal two days ago for a brand new 1Dx for $5,499 from eBay seller "Get It Digital" and notes that the listing doesn't list "US Model" like the seller's other listings, so it's safe to assume that this is an import version. Perhaps you could overnight it from Japan...
Now that you know Jesse approves, you'd probably like to know that the 1Dx has a break-neck 12 FPS burst mode, expandable to 14 FPS if you lock up the mirror, forgoing AF and auto exposure.
While we're rattling off specs, I'll throw in that Canon's square flagship DSLR features a 61-point AF system, the same as the 5D Mark III, a 100,000 pixel RGB metering sensor which utilizes direct-port nitrous ...uh... injection, four-core intercoolers, and ball-bearing turbos, and ...um... titanium valve springs. Wait, no, that's wrong. It has a dedicated DiGIC 4 processor for metering and utilizes two DiGIC 5+ processors to keep up with the 14FPS burst mode and help reduce noise.
With an ISO speed range of ISO 100 to ISO 51,200, expandable to ISO 50 to ISO 204,800, the 1Dx renders fairly usable high ISO images.
18.1 million pixels on the 35mm full-frame sensor allows a decent amount of croppability (yes, I just made up that word), though not as much as some of Nikon's newer high-resolution DSLRs.
So there we have it, the Canon 1Dx. Available right now for $5,499, $1,300 under Amazon's asking price.
Is $1,300 in your pocket worth the hassle of having a non-US version of Canon's highest-end speed demon of a DSLR, or do you absolutely have to have the US version?
Choose what's right for you, and remember:
If it's not Canon, it's not quality.
Wait, that's not the quote. Remember:
"The best camera is the one that's with you" ~Chase Jarvis