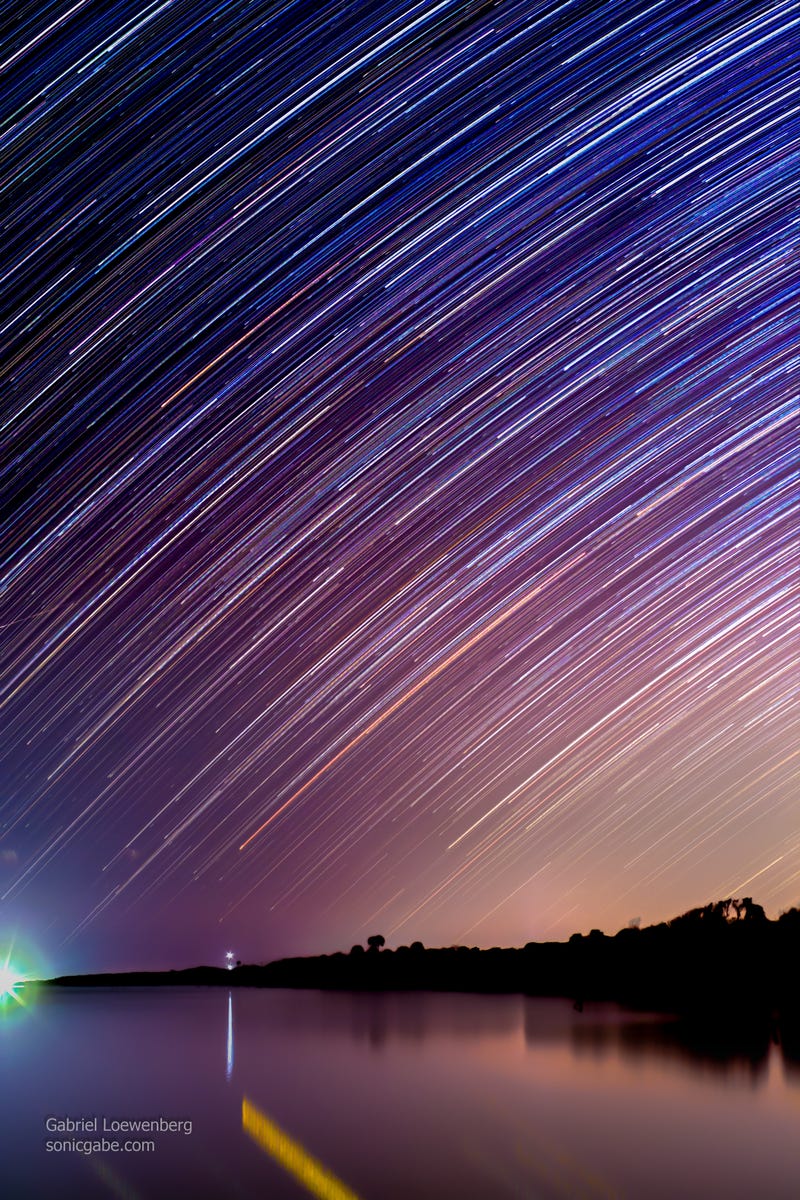 I went on three nighttime adventures in the last week.
Last Tuesday I drove over to my swampy spot at Cape Canaveral to shoot the Geminid Meteor Shower. The peak nights of Thursday and Friday were going to be clouded in (as was Wednesday), so Tuesday was the best night.
I met up with a friend who lives not far from there and we set shop for the night. While we saw plenty of meteors, they weren't concentrated in one park of the sky, so we didn't get too many pictures of them.
I brought two camera with me to cover different parts of the sky. The header was taken with the old D3100 using my 1963 Nikon 50mm. Even with the D3100 being of less resolution and not great at shooting in low light, that lens delivered a final image of amazing quality. There is one meteor on the left edge, about halfway up. You can see some of the stars reflecting on the water. The lights on the horizon are from the various launch pads on the north side of Cape Canaveral. (200 30-second exposures at ISO 800 and f/2)
We were out there from 11:30 pm to 4:30 am. I took two sets of pictures with the D5200. The first I'm still working on and might abandon. It just didn't work out as I hoped. The second one came out great.
In this shot there is one really visible meteor (top right area, a little ways in from the side), a mysterious slow-moving satellite (on the right edge, next to the meteor), and a faint trail from Comet 46P/Wirtanen (near the start of the bright trails from Orion in the lower middle; those trails go off into the palms in the lower left). The satellite is "mysterious" as I checked several databases and could not identify it. Nothing was listed that would have been there at that time. And my best guess is a satellite as it really can't be anything else. (143 32-second exposures at 18mm, f/3.5, and ISO 1250)
On Saturday night I went out to the dark spot closer to me to get some shots of the comet. Saturday would be it's closest approach, but Friday had clear skies.
On the left is Orion, just right if center is the "V" Of Taurus, on the right is the Pleiades cluster, and the green dot is Comet 46P/Wirtanen. (126 10-second exposures at 18mm, f/3.5, and ISO 3200; stacked and aligned)
I was only able to get wide shots as a heavy fog rolled in and that was the end of shooting. I did bring the D3100 out with the 50mm to do star trails. But since the fog rolled in, I didn't get what I wanted. I did, however, get this nice shot of a foggy moonlit road. (14 30-second exposures at f/2 and ISO 800)
By the time I packed everything up, visibility was down to about 30 feet. In editing, I washed out the tiny star trails from the sky. They just didn't work as they were so short.
I was determined to get some zoomed shots of the comet. Not too long after sunset, I went down to a park in St. Petersburg that overlooks Tampa Bay on Sunday. There would a hour or so window of clear skies. Even though the ambient light pollution would keep me from seeing the comet with the naked eye, I knew where it was supposed be in the sky. First I shot it using the 18-300mm at 300mm.
This is 24 3-second exposures at 300mm, f/6.3, and ISO 4000 all stacked and aligned.
I then put on the magic 50mm (75mm when on my cropped sensor) for a wider shot, but still closer than the 18mm from the night before.
On the left is Taurus and on the right is the Pleiades cluster. This is 51 2-second exposures at f/2 and ISO 2000; all stacked and aligned. I love this lens so much. The stars are nice a crisp, with no real trailing. I probably could have gone down to f/4 and up to ISO 4000 which would have given me some starburst flares from the stars (you can sort-of see some small ones on the brighter stars). Next time... if it's clear out tonight, I might try this from my driveway as the comet will still be up there.
That's what I've been up too. I think it's time to take some pictures of some Earth-bound objects again.
Oh, I came across this woman's Geminid post online. She wins meteors from here until eternity with this one. This is what happens when a meteor gets pretty far into the atmosphere and you happen to be close to where it burned up. It's bonkers. She was a ton of other killer Geminid pics, too. But this one is insane.