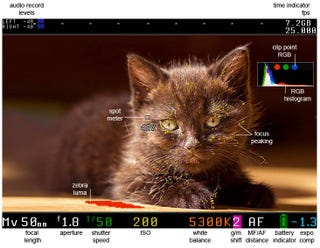 Woke up early today and I just felt compelled to finally try out Magic Lantern firmware for Canon cameras. I installed it on my T2i and found all kinds of features I wasn't expecting.
Let's start with the big one, RAW video.
This is the reason why everyone installs Magic Lantern. The problem is the only camera that can film 1080 video in RAW is the 5D Mk III (yes, that's the reason 5D Mk III prices even used have remained so high.) Here is a link to all the other camera's RAW video capabilities. Most can't even do 720 continuously.
Moving on to all the reasons you should use Magic Lantern even if you don't care about video.
If you use manual lenses with a Canon camera you need Focus Peaking. Well now you have it.
I was expecting focus peaking but I was not expecting Magic Zoom. Press the traditional focus peaking button and instead of cropping on a single portion and losing your composition you get a zoomed in pip and the horizontal bars turn green when the subject is in focus. Very useful.
Zebras make setting up a shot so much faster and easier to make sure your highlights are blown only when and where you want them to be.
Exposure Override is the one feature I had no clue about and in no way expected but somehow hoped it existed. Have you ever tried to use live view with your manual focus lenses and the image is severely under exposed? Well with the Exposure Override feature you can finally use live view in manual mode to dial in your focus along with all the new focus tools.