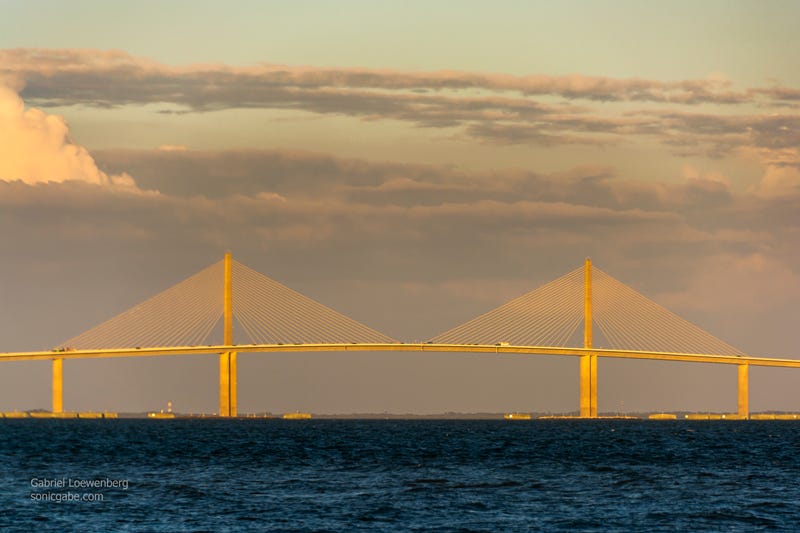 Last week was a busy one for photographs. First up is Thursday.
Once again, the rising full moon was going to line up with the Sunshine Skyway Bridge. Once again, clouds got in way. In the header shot, the moon is sitting right on the bridge, perfectly between in the middle. But the clouds... Oh well... Next time.
The trip wasn't a total write-off.
On Friday morning, I hit the streets of St. Pete with one of my oldest and dearest friends. She was down from Boston for a thing (which we'll get to in a minute) and we went out shooting. There was some horrible weather coming through Friday afternoon. We had about three hours or so of hanging out and shooting before the rains came. It was overcast, but we made the best of it.
The aforementioned thing was a concert. A long time ago, there was a St. Pete/Tampa band called The Catherine Wheel (they pre-dated the U.K. band of the same name, but the U.K. took off and laid claim to the name). Our Catherine Wheel was doing a reunion show, playing together for the first time in about 27 years.
The show, which sold out, was at the St. Petersburg Museum of Fine Arts in conjunction with an art exhibit celebrating the works of legendary artist Theo Wujcik. People came in from all across the country just to see them. This band should have been huge. Circumstances not of their doing and beyond their control prevented it (sudden illness and death of an original member). This bands means a lot to a lot of people. They were, and are, really special.
Regardless, this show was amazing. The songs still hold up. They played great. I've known these dudes since back then and it was just a really amazing to see them hold court over a packed room one more time. Then we all got shitfaced after the show and had a grand old time.