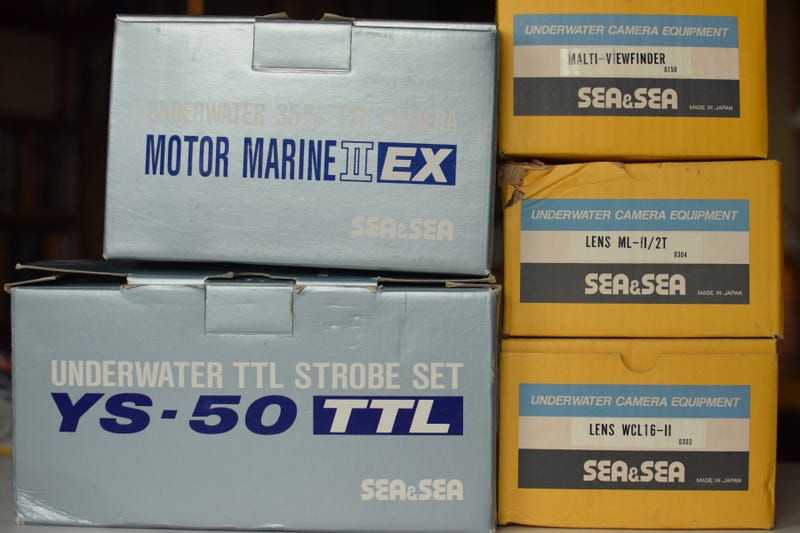 FOR FREE!
A co-worker had bought all these sometime in the late 90's. He used the camera a few times but never any of the accessories.
The camera itself:
A Sea & Sea Motor Marine II EX. It has a built in 35mm lens(f3.5-f22) and can be used to a depth of 45 meters.
Everything still has its manual and spare o-rings/grease. I love Japanese instructions and their use of cartoon guides. Fickle O-ring Care Guy is serious about o-ring care.
Interestingly, any additional lenses need to be fitted while underwater. They require water to be between the lens and adapter.
Macro adapter
A 16mm wide lens
A top-mount view finder
W/ TARGETING RETICULE!
A giant strobe.
All together.
After toying around with everything and inventorying I got some AA batteries and popped open the housing.
JUMPING JEHOSAPHAT!
I guess he forget to take out the old batteries. They had an expiration date of 2001 on them...
Time for a bath.
Some baking soda and water did wonders, but the acid definitely did some damage to the holder. The one side is eaten partially eaten through.
The inside of the camera surprisingly wasn't too bad and cleaned up with a q-tip.
Not terribly optimistic, I threw some AA's in and sure enough it turned right on. :)
I'll see if I can get a new holder, but then I gotta figure out a good place to try it out. Kinda landlocked here. Plus all my nearby bodies of water resemble this algae covered, snapping turtle infested pond.
Guess I'll need to steal some scuba gear off of my brother and take a vacation.