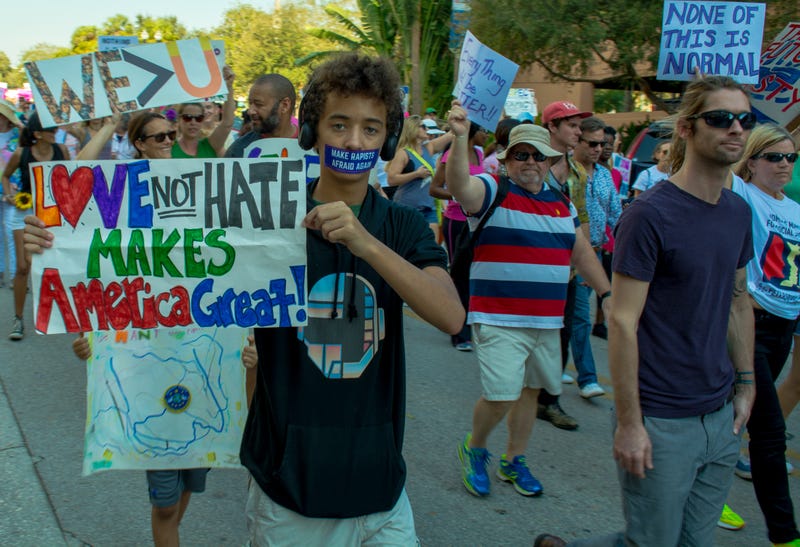 These are my best and/or favorite shots from 2017. They are presented in chronological order. Many of them have been posted here, but some have not. I tried to keep it as short as possible, but I still ended up with 15 after I cut several. I'll try to keep the commentary short. I tend to ramble sometimes...
The header pic is from The Woman's March in St. Petersburg. While there were plenty of great shots of women protesting, this picture of this young man is my favorite from the day. I really love it. He looked right at me but didn't ham it up. He was so serious.
This was one of the pictures I showed earlier this year at the art show thing. I need to get do more of this stuff again.
These two are from the Grand Prix of St. Petersburg. The first is St. Pete resident Sébastien Bourdais on his way to his first hometown IndyCar win. The second is the R. Ferri Motorsport Ferrari 488 GT3 that runs in the Pirelli World Challenge series. It might be the best picture I ever take.
These two are of the band Spoon playing in Tampa. Thier lighting design made photographing them so easy. There were so many great shots from the show to choose from, but these two, which are so different really sum it up.
These two are from my friend Jeremy's album release show. The top is our friend Shea, who sang backing vocals for him. It was such a joyous night with lots and lots of bubbles.
Fourth of July fireworks with lightning!
Totality! I want to live in totality forever. It was so fucking amazing.

IndyCar testing the new 2018 body kits at Sebring International Raceway. I don't know how I managed the tire blur shot. I couldn't do it again if I tried. The second just came out great. I love everything about it.
This is a re-edit of the 200 stacked shots from the Geminid Meteor Shower. The first one was far too drab. I got a little creative and ended up with this. I might re-edit it again as I lost some color in the stacking process. But for now, it's fine.
I went out before sunrise the other week to capture a foggy sunrise behind one of our marinas. At 6:58 am, I was doubting the forecast of heavy fog.
By 8:16 am, the fog rolled in with a vengeance. I was hoping for slightly less fog with the sun directly behind the boats as it came above the horizon. But I'll take this. Our sunny paradise turned into a foggy New England winter day at the harbor in minutes.
And that's it. Can't wait to see everyone else's "Best Of..." posts.
Here's to more photos in 2018!