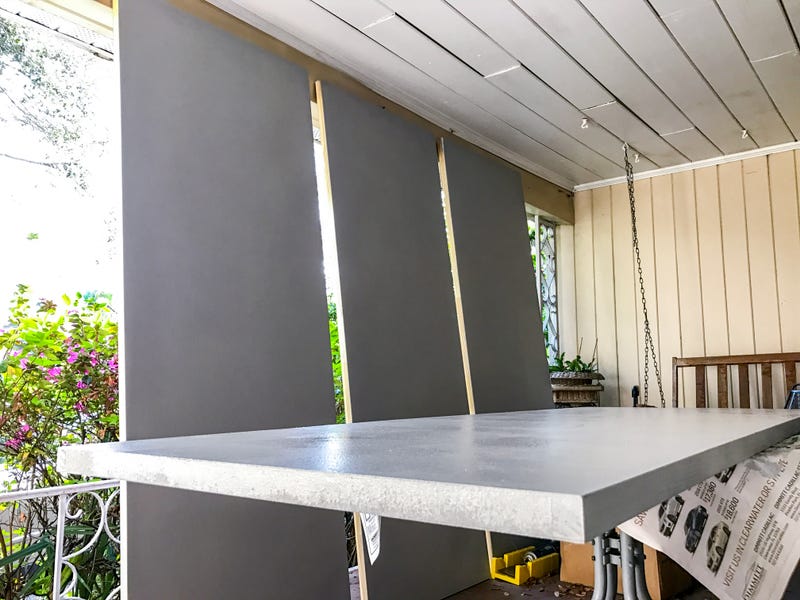 I've been building my display boards this week. I painted the door blanks a nice flannel grey. But first, a fun story...
When I was carrying the doors out of the garage, a bee flew in my shirt and stung me on my side; about 7 inches below my armpit, right on the ribs. Having not been stung by a bee in about 25 years, I forgot how much it hurts. It really hurts. I was carrying two doors at the time. I somehow managed not to drop them.
So after regrouping, I got the doors painted. A few days later, I got the feet assembled, the two pairs of doors hinged together, and started running the wire to hang my prints from.
Today I painted the feet and ran some more wire. I'll be finished with the wire tomorrow, then some touch-up paint and they should be done. Almost forgot, I have some screw eyes to put in the tops. I'll be tying the boards to the inside of the tent for extra stability.
They are working out exactly as planned. I certainly didn't have the budget to drop $2000 on a set of ProPanel display boards. My solution came out to about $220. Admittedly they could be refined a little more (I'm not happy with how I have the wires screwed in to the sides), but they'll do just fine. I have a plan to arrange them so that you walk through my tent like a mini art gallery, rather than lining the sides and back wall with the panels and pictures.
Aside from the finishing touches on the panels, I just have a few little things left to do. I have to figure out where everything is going to hang. I need to print out the accompanying info card to display next to each picture. I also need to print out little inserts with contact info to go in each picture bagged for sale (more cost effective than wasting close to 150 business cards on that). There are a few other very minor things to attend to, but not much. It's all coming together. Hopefully, I'll have a few day to relax next week before the show. I want everything done by Tuesday or Wednesday morning. Load-in for the show is Friday.
I'm really happy I did this, and I would encourage anyone to try a similar endeavor. Will it all be worth it? Hopefully, this will open some doors to a gallery show or something. But in the meantime, we'll see how next weekend goes. How will my work be received? Will I even sell anything?
My mom has been encouraging and snarky, "So what are you going to do with all of the prints you don't sell?"
To which I replied "Give them as birthday and Christmas gifts for years to come."
Oh, I took a break from all this today to get my hair cut and beard trimmed for the show. The little punk salon I go to is owned by a long time friend. Before, after, and some times during the hair cut, I got to hang with her new shop puppy, Woody. Here's some iPhone pics I snapped of the little guy. If you read this far, you've earned some puppy pictures.