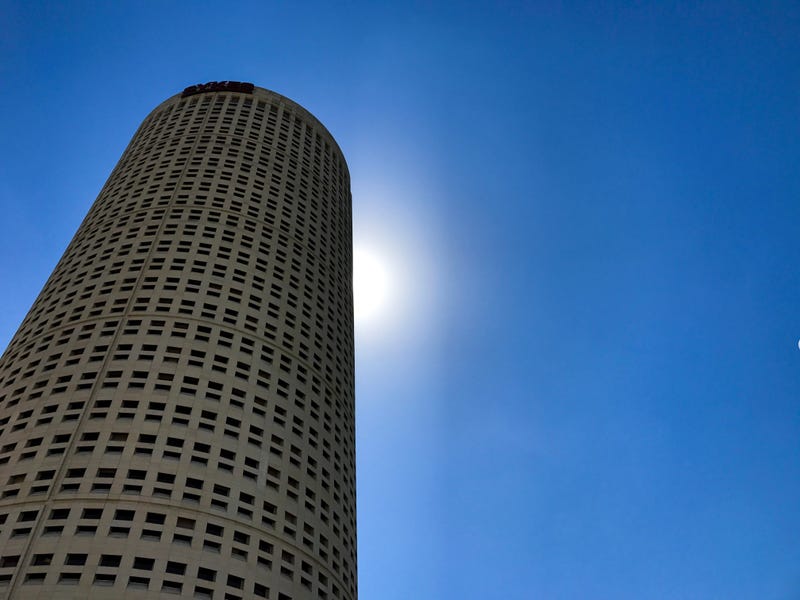 The day started at 5:30am. Got up, got ready, and headed out in to a chilly Florida morning.
I arrived at my tent and got everything set up by 8:30. The artist hospitality tent was already out of coffee. What the hell! I hung with some of the other Emerging Artists. Everyone was super nice and awesome except for one of my neighbors, who I'll call Captain Grumpypants. I'll write more on him after Sunday. Anyway, the festival opened and after a handful of window shoppers, I made my first sale.
We were in the shadow of one of my favorite buildings until slightly after noon, which kept our area about 10 degrees cooler than the rest of the festival. With the wind, it was downright cold at times. The young woman in the tent next to me eventually found us some coffee.
As the day went on, foot traffic increased. I made some more sales. I got a lot of really good feedback, too. And then at almost 4pm, this happened.
Holy crap! This is the pic that was selected.
After the festival closed for the day, it was time for the awards to be given out. Myself and the few other Emerging Artists that had pieces pulled got to hang out some more, which was great (no Captain Grumpypants!). When the moment came, I didn't win. But just getting pulled for jury is a major deal, which also came with an invite to a fancy-pants gala in the Tampa Museum of Art. At the gala, all the works pulled would be on display. Ironically, my picture on display in the Tampa Museum of Art was of the Tampa Museum of Art. Freaky.
All in all, a very successful first day. We'll see what day two brings. I've been told that the majority of sales happens on the second day. We shall see...
Oh, after I didn't win, I sent both my wife and my mom texts that said "I'm not the big winner". These are the responses I got almost simultaneously from them.
That made the day.