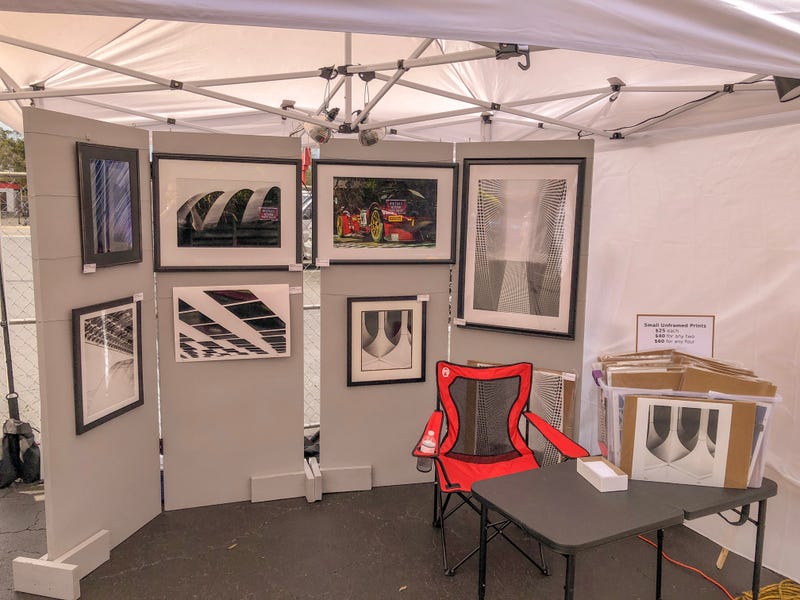 I was asked to be one of maybe 15 art vendors at a local music and art festival. This was the first of what the organizers plan to make an annual event.
(WARNING: This post has a slightly NSFW drawing at the end, so just don't read this while hanging out with the elderly, small children, or someone who has the ability to fire you. It's not horrible and can be shown on basic cable during the day, but just consider yourself warned.)
It was called the Heights Unites Music and Art Festival, held in the Seminole Heights neighborhood of Tampa, where I lived for 14 years. It was put on by the neighborhood association.
The goal was to raise money for neighborhood improvement project and to create a scholarship fund in the names of those murdered late last year in the neighborhood by a serial killer. If you didn't hear about it on the news last October, just Google it.
The event went great. Besides the artist, there were 20 local bands, all of which were very good (the Tampa/St Pete music scene is absolutely killer). The event was attended by at least 900 people.
I had a good flow of people through my booth. Interest was high, but sales low for a long time. I had expected as much, so I just kept talking to people and doing my best to sell them on my stuff.
By the end of the night, I sold three framed pieces, a large unframed print (duplicate of one of the framed ones that sold) and a few small unframed prints. I'm very happy with that. I also had two separate people very interested in two of the pictures that didn't sell. I expect to hear from at least one of them in a next few days.
The circled ones found new homes (that's the large unframed one behind the chair). The two up top in the middle are the ones I'm waiting on a call back about.
I had a great time, met some nice people, got to see some friends that I don't get to see on the regular, and I got a piece of digital art during one sale.
The guy who bought the large framed one on the left drew me a picture when signing for his purchase.
If a total stranger draws you a penis and you're cool with it, you've probably had a good day. It was a good day.
Now that this is all over with, I can get back to taking pictures. On Monday I am going to try to photograph the International Space Station transiting the sun.
My house is right in the sweet spot, but the transit will take all of 0.70 seconds. No room for error and I've never tried this before. At least I don't have to drive four hours for failure. I can fail in the comfort of my driveway. We'll see what happens. There is another transit visible from here that will take almost three seconds, so if Monday doesn't work, I can try again real soon.