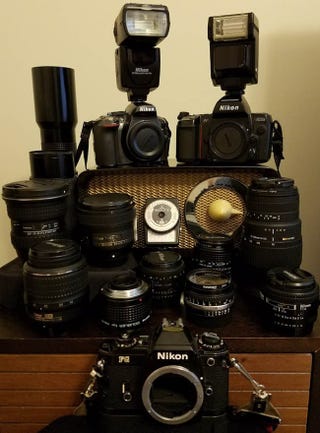 Starting at the bottom going left to right:
Nikon FG* with Electronic Power Winder* (winder works, camera does not)
Nikon DX AF-S Nikkor 18-55mm f3.5-5.6g Kit Lens
RMC Tokina Doubler for NA/AI*
Nikon 50mm f1.8 E*
AF Nikkor 50mm f1.4*
Tokina SD 11-16 f2.8 DX Ultra Wide Angle
AF-S Nikkor 85mm f1.8 G
AF Nikkor 50mm f1.8 D
Tokina 28mm f2.8*
Sigma DG 70-300mm f4-5.6 Macro Zoom Lens
Gossen Scout 2 Light Meter*

Sears (?) Auto Zoom 60-300mm f4-5.6* (for canon)
Kalimar 500mm f8*
Nikon D5300 (main camera)
Nikon Speedlight SB-700
Nikon AF N8008s*
Nikon Speedlight SB-22s*
*items purchased in a set box recently (came with nice box, camera bag, 10 filters, Ambico Shade+ lens hood, Vivitar auto thyristor 283, and lots of other little things for $200)
Also have a mono pod I usually carry just as a walking stick and a MeFoto Aluminum tripod. Along with 3 camera bags (1 sling, 1 backpack to hold most everything, 1 backpack for just a few lens + camera)
Apologies for not taking a picture of EVERYTHING. I don't really have that kind of room...