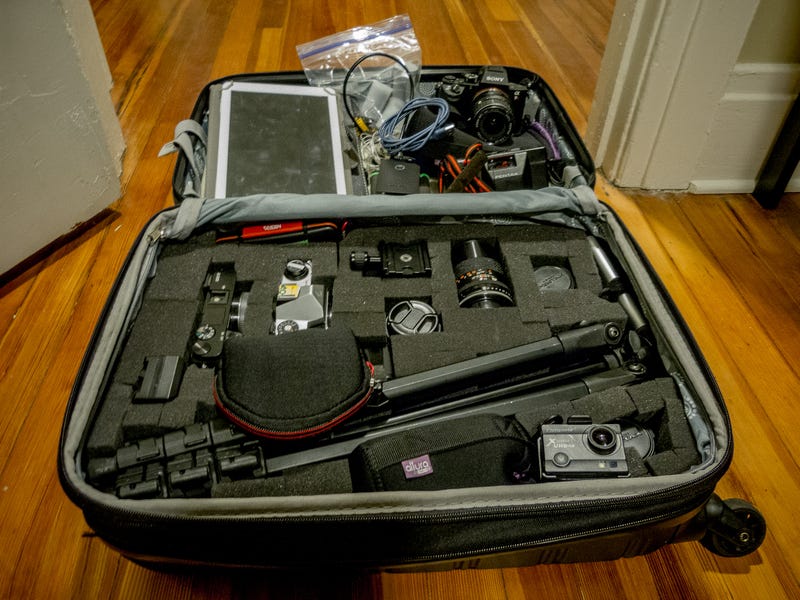 Tomorrow my wife and I leave for a week in Ireland, our second time there in as many years. We had such a fun time there on our honeymoon and tickets were so cheap we decided we had to go back. Not only that, but my prints from our last time there have been selling pretty well so my wife told me to treat this like a photo trip. I didn't have to hear that twice!
I've been contemplating upgrading from my a6000 to something full frame for a while now, but when I realized I wouldn't have the funds together before the trip I decided to rent something. The end result of that is an a7rii I'm borrowing from LensRentals.com for 10 days. I'm already pretty sure I want to get one, especially with the price dropping after the a7riii, Canon EOS R and Nikon Z7 all coming out. This trip should tell me if I should pull the trigger or wait for something else.
The camera arrived yesterday, so naturally I had to try it out. I've always wanted to try some astro photography, but for some reason I never have. It was clear last night so I drove a few minutes out of town and was able to get a shot I was pretty happy with.
Hopefully it's just the start of a very photo-filled week!
Gear list:
Sony a7rii

Sony a6000

Pentax k1000 - my old standby for b&w film

Pentax PC35af - crazy sharp lens on this $20 point and shoot

Pentax SMC K 28mm f3.5 - recently purchased and this thing really is the super sharp landscape lens it's claimed to be. Puts my 50 f1.7 to shame corner to corner
3 Pentax 50mm: f1.4 (k1000) f1.7(a7rii) f2.0 (a6000) -Is 3 nifty fifty's excessive? Sure, but my wife will be using the a6000 while I use the other cameras, and I always leave a yellow filter on the f1.4 so... 3 it is
Tamron Adaptall 135mm f2.8 - It used to be my mom's lens and I grew up using it so it stays in my bag even if there might be better options
Filters: Pretty much just an ND1000, but I brought a CPL as well
Tripod - Walmart brand, but with a ball head from Amazon. It's honestly pretty sturdy, but a little heavy and doesn't pack great for travel
5 rolls of black & white film (Tri-X and HP5+) and 3 rolls of color
About 256 gb in various SD cards, plus RavPower wifi hub to transfer files to hard drive without laptop
6 batteries (the a6000 and a7rii share them, conveniently)
Knockoff gopro - just used as a dashcam for the rental car, but does decent timelapses
$90 3g tablet from Amazon - works as our gps with a dash mount
Bonus shot: Here's a film shot of my friend doing pottery I kind of liked