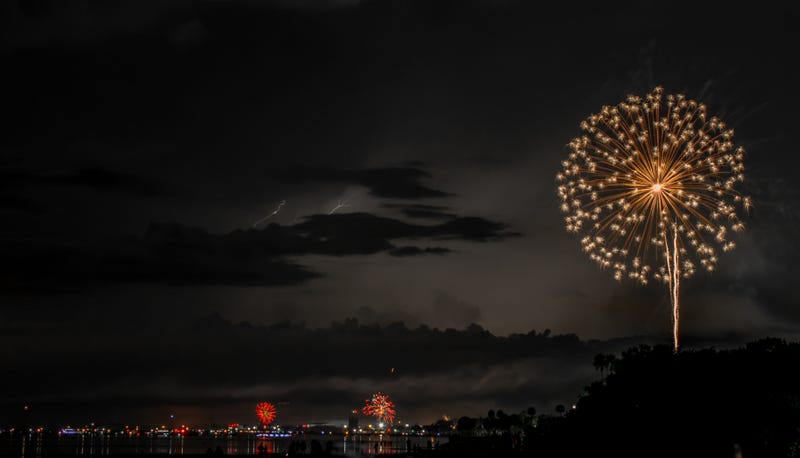 Here they are, St. Petersburg's 4th of July fireworks, with lightning! The lightning was gone by the end of the show, but what more could you ask for? Not only does the lightning just look cool, the flash would light up the clouds, giving the shots amazing depth. In some of the pictures, you can see stars in the upper left corner, too, which was a nice calm contrast to the violence of the lightning and fireworks.
When viewing these, please keep in mind that the uploaded images are compressed, leading to some pixelation, especially in the clouds where the shading transitions from one area to another. I implore you to click on each one to view the slightly less compressed and less pixelated image. The uncompressed high-res images are, in some cases, really amazing. I wish there was an easy way to share them. I'm working on it, but for now, it is what it is. Enjoy.
This first picture is three consecutive 30-second exposures stacked. The firework is not part of the big show, but just some store-bought one that someone fired up from the beach. I was just getting set up and dialing in the settings and got these three shots of the lightning, the firework, and a decent star field. The exposure time was too long for the ambient light, but it still made a cool shot.
The rest are from the city's big show. Had we ended up parking where I originally planned, we wouldn't have been viewing the show from an angle to get the fireworks and lightning in the frame together. So, many thanks to the excessively large crowd for changing our plan and forcing us to end up where we did.
Because y'all are so awesome here, if anyone wants a high-res version of any of these, I'll be more than happy to email it to you.