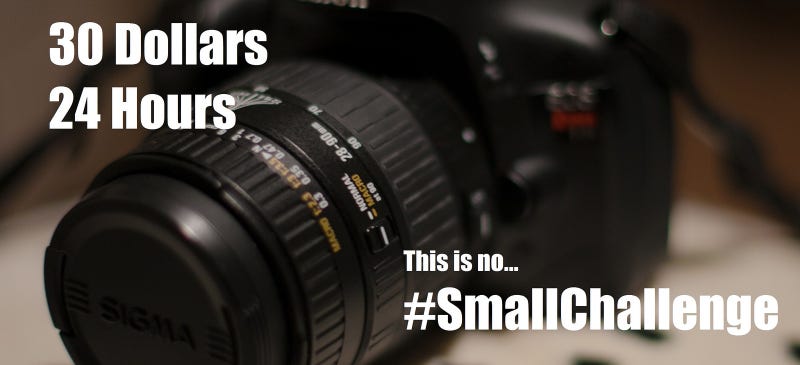 What happens when you give a macro lens to someone who loves macro shots but has never used a macro lens? What happens if that lens only cost $30? What happens if you give him 24 hours? All these questions and more answered after the jump! (Lead Picture Source)
It seems like it was just yesterday. Well, it was, sort of. Tuesday, at 9:30pm, I came up with the idea that I should challenge myself to shoot only macro for 24 hours. My girlfriend happens to own a macro lens (and is gracious enough to let me borrow lenses from her). That's where things start going wrong.
The Sigma Zoom 28-90mm f/3.5-5.6 Macro lens is... well, it was worth the $30. She acquired the lens from a camera store that was going out of business so cheap because there's a small defect with the lens when shooting in bright lighting (such as outdoors, it's really just more like over-accentuated lens flare). Is it worth the $50 these lenses are going for now? Absolutely. Do I love the lens? Far from it.
A stipulation I set for myself for this challenge is that I could not shoot anything but 90mm. That limits me to reviewing the lens at f/5.6. I own a Canon T2i (550D), which has a crop sensor in it. f/5.6 is not my friend. That being said, here's what I came up with in 24 hours! (Remember I haven't ever shot macro before):
IF YOU WANT FULL RESOLUTION, RIGHT CLICK, COPY URL, OPEN A NEW TAB, AND PASTE! YOU MAY HAVE TO EXPAND THE PICTURE FIRST!
First, we decided to see what was around the room to take pictures of. Being 9:30 at night, outdoor shooting was out of the question, but we did manage to find a pea pod laying around on TheGirlfriend's desk.
Then we found a pancake lens just chillin' around, being flapjack-y:
Here's a closer crop:
So in this light, the lens seems like it's pretty damn sharp. Not bad.
Then I figured, "Hey! I could take a picture of the tapers I'm gonna put in tomorrow!" (They're 4 gauge tapers. I was at a 6 gauge; they fit fine!)
There's an inevitable camera porn shot!
Sitting in my car, some shots are inevitable (I drive 100-150 miles a day)
And a tight crop of the previous:
Anyone who can guess what this is wins a cookie:
This is a small statue sitting in my Mom's garden:
That's pretty much it! I didn't have much time to shoot, as I work full-time and this was a mid-week challenge. I'd say I didn't do bad for never shooting macro before. Also, I didn't do any cliche shots! I had to be clever about what I shot!
Overall, the lens was fairly easy to use. Simply zoom to 90mm, click down the macro switch to macro, hit the AF and BAM! Macro. Too bad getting it out of macro mode is much harder. You've got to either focus on something far away, or flip from AF to MF and turn the focus ring towards infinity, out of macro. Then, and only then, can you click out of macro mode and resume using the lens as a regular zoom lens. Most of these shots were very hard to take, unless it was bright out (f/5.6 is SLOWWWWWW).
I applaud anyone who can shoot macro. This is a very tedious and try/fail style of shooting (especially if you're hand holding). What have I learned from all this?
It's worth it to purchase the Sigma Zoom 28-90mm f/3.5-5.6 Macro Lens (Sometimes also referred to as having an aspherical lens) for $50 or less. It takes macro shots, though you might have to start breaking your own personal standards for better pictures!
It's worth noting that all of the pictures above were taken within 24 hours. All pictures were shot in RAW, imported into light room, and post processed. Some images have not been processed at all, just RAW->JPEG conversion. Nothing extreme went into editing, just adjusting balances and white balance adjustment.
Comment/Hate Mail/Love Mail/Free Money is greatly appreciated below in the comments!(Minus the hate mail, I'll stomp that shit out faster than a Zeiss 50mm f/0.7.)